Do you have a specific talent, interest, or passion? If that's the case, choosing a profitable blog niche could be your best bet for fulfilling your blogging dreams.
In this post, I'll help you find a profitable niche that will keep your excitement levels up even on bad days.
But before we get ahead of ourselves let's get a better understanding of what a niche is.
What is a Niche Blog
A niche blog is a blog with a single focus. This doesn't mean you have to write about the same thing over and over, but all topics must be related.
For example… this blog is about helping you start a new blog, grow its traffic, and monetize it. Therefore all of my blog posts center around that niche.
However, if I started blogging about yachts, sports, and traveling then this would no longer be a niche blog.
Why Should You Start A Niche Blog
First, if you haven't started a blog be sure to follow my beginners guide on how to start a blog in 2019 and monetize it to get going for under $4 a month.
As for why you should start a niche blog. The answer is simple–the more focused your blog is, the more profound relationship you will have with your readers.
This, in turn, makes it easier on yourself to turn your readers into customers.
You cannot become a successful full-time blogger without monetizing your blog.
You must make money in order to support yourself, therefore you have to look at every new reader who visits your blog as a potential customer.
Blogging about 100 different things makes this task much harder.
Have you ever wondered why Walmart and other department stores place related products in the same section?
They know that creating "niches" within their stores makes it easier for their clients to find what they need and shell out the cash.
Could you imagine how frustrating it would be walking into a Walmart to buy milk, eggs, and bread and finding each item in a completely separate section of the store?
You'd probably go berserk after walking around like a zombie looking for milk in the grocery section to later finding it in the sporting goods area.
That's exactly why you don't want to blog about everything. Focus on one thing and every reader that goes to your blog will arrive there because they are looking for the exact thing you have to offer.
Now that you know the why… it's time to find the how.
How To Find A Profitable Blog Niche That Fuels Your Passion
Finding a profitable blog niche is easy. The hard part is finding a niche that's profitable and of actual interest to you.
You probably already hate your 9-5 job, so why quit to blog about things that you have no interest in?
Below are several steps you must take in order to find a profitable niche that fuels your passion:
#1. Make A List
What do you like doing? I cannot answer this for you, so grab a pen and paper and start writing down everything you like doing.
Don't be shy or feel like your list needs to be limited. Jot down 100 things you like doing if necessary.
Common things you'll see on most lists include sports, traveling, cars, family time, and food.
Less common things include sky diving, ancient history, minimalist living, beekeeping, archery and so on.
Now that you have your list, let's find out which of those things you can build a profitable blog around.
#2. Research
So let's say one of the things you like doing is meditation.
Google the following:
"Meditation blog"
Best meditation blog
"Meditation blogs"
Meditation blog (s)
Pay close attention to the top results. Don't bother going over anything showing up past the first page.
We want to see what the best bloggers in your niche are doing.
Click on the top results and see what those bloggers are blogging about.
Visit their social media profiles and pay close attention to how large a following they have and how engaged their fans are.
This will help you determine if the niche has a large enough audience for you to jump in and make enough money to reach your goals.
Another great tool you can use is Ubersuggest.
Type in a keyword or phrase pertaining to the niche you are interested in and see what kind of search volume it generate.
Another interesting feature of Ubersuggest is that it allows you to type in a domain and provides you traffic and keyword information on that particular site.
So for example, when we searched for meditation blogs on Google, the first result was mindworks.org. Let's type that in Ubersuggest and see what comes up.
The results show us that search engines are sending mindworks.org over 50 thousand visitors a month.
That number doesn't include people who visit the site directly or through social media so the actual traffic is usually much higher then what you will see in the results.
Results also show that the blog is ranking for over 13 thousand keywords which is great.
Lastly, if you scroll down you will see the most popular pages on the blog.
This is a gold mine for ideas on what to blog about.
Why go crazy trying to come up with blog post topics when you already know what's working?
#3. Ask
Ubersuggest doesn't show results for every blog. Sometimes because they haven't been around long enough and other times because they are too small.
If the blogs you've chosen to research show up, chances are the niche you picked is large enough to support a newcomer.
However, if you are having trouble finding blog stats on Ubersuggest you will need to use the Google results from our previous exercise and ask around.
Don't straight up ask how much they are making or how they became so successful.
Read their blogs, follow them on social media and learn as much about them as possible. Once you feel like you can pass a test on who this person is, then contact them.
Let them know you're a big fan and that you're looking to start a blog on a similar niche. Ask them if they recommend any resources outside of their blog that might be able to help you get started.
If you get a good response, move on to asking about their blog traffic stats.
Don't feel bad if they don't answer. Successful bloggers are busy individuals and many don't answer their emails/messages.
I don't recommend you ever do that, but if they do… don't beat yourself up and move on to the next one.
Note: If they let you in on the traffic stats, you can usually ask about their income. If you don't want to ask directly, just ask for a range or if they think it's possible to make X amount in that particular niche.
Ok, so now that you know how to find a profitable blog niche that will have you making the energizer bunny blush. Let's look at a random list of successful bloggers.
Examples Of Successful Blogger
Let's define a successful blogger as anyone making over $5,000 a month.
I know that's not "get rich" kind of money, but it's enough for anyone to live a comfortable life.
Starting out you won't make anywhere close to that kind of money so I will include bloggers who are under the threshold as well.
One thing I would like you to keep in mind… You'll have a harder time making your first $100, then your first $1,000.
Once you have a system in place for monetizing your blog, it's up to you how far you want to take it.
With that in mind, let's take a look at 13 different bloggers who are making bank:
Niche: Ketogenic recipes
Income: $10,000+
Traffic: 156,000
Before researching this article I didn't even know what a ketogenetic diet was. It seems like there is a growing demand for these types of blogs and Gretchen is at the forefront of this movement.
Niche: Blogging
Income: $2,800
Traffic: 9,000
This blog's income varies greatly from month to month. Sometimes, it's over $10k and other times it's under $3k. However, he constantly makes enough to live comfortably.
Niche: Online business
Income: $18,000+
Traffic: 100,000+
Miranda's blog focuses on helping people run their online business. Whether you're a blogger monetizing your blog through affiliates or by selling your own products she can help you fine-tune your strategies to generate better results.
She is one of the few bloggers on this list that has made over $100k in a month and shockingly a great majority of her traffic comes from Pinterest.
Niche: Short men clothing
Income: $10,000+
Traffic: 100,000+
I love the concept of this blog. It's basically a place where short men can go to learn how to dress and feel more confident.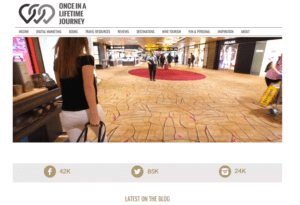 Niche: Traveling
Income: $20,000+
Traffic: 250,000+
If traveling is your thing, this is one successful cat you want to keep an eye on. Who wouldn't like to travel and make this kind of money?
Niche: Parenting
Income: $1,400
Traffic: 37,000
Samantha has been blogging for about 2 years and has seen her income double in the past five months.
Niche: Yoga
Income: $15,000+
Traffic: 40,000+
Allie monetizes her blog through the sale of personalized Yoga courses, affiliate marketing, and personal services. This is a great example of what a single focus blog looks like.
Niche: Disneyland and weddings
Income: $600+
Traffic: 29,000
Mindy combined her love of Disneyland and weddings to create her blog. Not as big as some of the other bloggers mentioned here, but she is killing it.
Niche: Money (financial freedom)
Income: $40,000+
Traffic: 200,000+
Grant is a beast, he is one of the best at what he does and his income proves it. The above numbers are from almost two years ago so I wouldn't be surprised if he is more than doubling that right now.
Niche: Health and fitness
Income: $1,700+
Traffic: 70,000+
Peter lost 80 pounds and decided to build his blog as a way to keep himself accountable for staying fit, as well as help others with their health and fitness struggles.
Niche: Internet marketing
Income: $17,000
Traffic: 10,000+
Ron is a professor who started a blog about internet marketing because so many of his students wanted to know how to create a successful online business.
Goes to show that you never know where your inspiration may come from.
Niche: Personal finance
Income: $17,000+
Traffic: 50,000+
These two found their profitable blog niche in 2015 and haven't looked back ever since. If you're planning to start a blog with a partner, this is a great couple to follow.
Niche: Crocheting
Income: $5,000+
Traffic: 40,000+
It's hard to believe how Cheryl has built up her blog in the crotcheting niche into the success that it is today. She is a blogging superstar.
Conclusion
Quitting your 9-5 job to become a full-time blogger is a hard decision to make.
In order to succeed and avoid being miserable, you must find a profitable blog niche that you are passionate about.
The above article teaches you everything you need to know for finding a profitable blog niche that fuels your passion.
Have you found your profitable blog niche?
Profitable niche FAQ
What niches are most profitable?
Some of the most profitable niches include Self-improvement, dating, health, pets, technology, wealth building, personal finance, and online marketing.
What are good niches?
Any niche can be good. Choosing a good niche is more about your passion and deciding the best way to monetize it.
How do you dominate a niche market?
The best way to dominate a niche market is by creating better content than everybody else and doing a better job at promoting your content than everybody else.
How do you research a niche market?
The best way to research a profitable niche market is by identifying your audience, analyzing the competition, understanding the voids, and deciding how you want to enter the niche.