Today, you will learn how easy it is to create a WordPress blog on your own.
Blogging has changed my life. It's given me the freedom I always wanted and even though I don't yet make enough money to travel frequently and have the lifestyle I've always wanted, it's well within reach.
I won't sit here and try to sell you on how "easy" it is to become a blogger and make thousands of dollars in your sleep.
NO, making money as a blogger takes a lot of hard work and if you're not 100% committed, I would not recommend that you quit your day job.
Even though I haven't reached the level of success I envision for myself as a blogger, I can tell you that blogging has given me the freedom to spend more time with my family, take care of my bills, and splurge from time to time.
In other words, I have already reached a level that is priceless to me. I actually made more money while working as a systems analyst at my previous job, but there was no freedom to speak of and the little time I spent at home was basically to shower, eat, and sleep so that I can do it again the next day.
That's not the kind of life I wanted for myself and I am sure it's not what you want for yourself either.
So if you're ready to take control of your life and do something that you actually enjoy…
Click here to start a WordPress blog on Bluehost.
There are hundreds of reasons why you should choose Bluehost for your new WordPress blog and I personally believe they are one of the best hosting providers in the world. These reasons include:
Bluehost is beginner-friendly. Yes, anyone can easily create a new WordPress blog with my tutorial below. As Geico would say… even a caveman can do it.
Bluehost web hosting offers US-based 24/7 tech support.
They're highly affordable. Bluehost offers cheap web hosting. Their services start at under $4 per month… Yes, all it takes is one less latte to have your own blog.
Bluehost provides you with a FREE blog domain (blog name) for a year. That's an extra ten to fifteen dollars in your pockets.
 Bluehost offers a 100% no questions asked money-back guarantee. If you sign up with Bluehost but get confused for any reason (such as naming your blog, how to set it up, choosing a plan, etc.), you can always reach out to me and I will do my best to help you out.
Self-hosted. This means that you'll have full control of your blog and be able to monetize it as you deem fit.
Uptime of 99.97%. Once you start making money from your blog, this will be very important as any downtime will mean less money in your pockets. I have yet to experience any downtime with BloggingPals and hope that it continues that way.
Bluehost is one of only three hosting companies recommended by WordPress.
 Being self-hosted will make you appear more professional to readers and companies. Compare this blog with any blog on Blogspot and you will see what I mean.
Scalable: As your blog grows and requires more resources, you can seamlessly change hosting plans as needed.
In order to take advantage of these features, you will need to head over to Bluehost. There are plenty of web hosting companies to choose from, but I honestly believe that Bluehost is one of the best, which is why I use them on my blog.
So if you're planning on starting your own blog on Bluehost and are interested in learning how to start a WordPress blog, continue below.
Don't forget to contact me if you have any questions or are confused for any reason.
How to start a WordPress blog on Bluehost
#1. Choose a domain name (blog name)
You can click here to buy a domain name and start creating your new blog, then continue to follow the simple steps below.
Most parents have a name picked out for their kids even before that child takes its first breath. Usually, that name is associated with this newborn for the rest of his life.
Same thing with your new blog. The first thing you need to do when creating a new blog with Bluehost is to pick a domain name. This is the name everyone must type in if they want to reach your blog directly.
It can be tough coming up with a domain name for your new blog, but I recommend you take the time to choose a name that you will stick with.
I say this because changing domain names down the line can negatively impact your blog's traffic.
The trick to naming your blog is finding a domain name that has not already been taken.
Unlike a kid's name which can be shared by many. your blog's domain name must be unique.
That's the tricky part because with over a billion websites in existence today, it can be difficult to come up with a domain that isn't already taken.
However, I did a little leg work for you so you don't have to guess.
The tool below will tell you if your domain name idea has been taken.
Enter your domain name below:
This tool will check to see if your domain name is available. If it tells you that it's taken, then try a different name until you find one that's available.
Two things to look for when choosing a domain name:
Will you be the brand? (if so, you can use your name)
Does the domain name give people an idea of what the blog is about?
Depending on your niche it's always a good idea to choose a domain name that people can easily associate with your blog.
One that can closely describe what the blog is about if possible.
You can get your domain name through Bluehost for free. This is normally something you'd have to pay $10 per year for, but if you register with Bluehost they waive the fee for your first year.
Ok, so now that you have chosen a domain name for your new WordPress blog, it's time to register it.
#2. Purchase hosting and register your domain name with Bluehost
In order for your new blog to be accessible on the web, you'll need to purchase hosting services.
A web hosting service is a type of Internet hosting service that allows bloggers to make their blog accessible via the World Wide Web.
That's where Bluehost steps in, so if you haven't already registered your account, let's walk through the simple steps.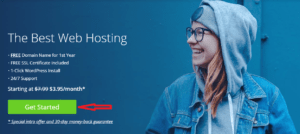 Once you click "get started" you'll be shown the different hosting packages available for you.
The basic package is more than enough for anyone starting out. 
Enter your chosen domain name or skip it if you're still working on that.
Next, you'll need to enter your personal information and choose your package.
The terms range from 12-36 months. Choose (36-months) to get the best deal.
And just like that, your new WordPress blog is registered and hosted on Bluehost.
Now I'd like to take a quick look at the costs associated with having a WordPress blog on Bluehost before moving on to the last step.
Cost of blogging:
Hosting: The hosting cost of your new blog will depend greatly on which Bluehost package you choose. Assuming that you decide to go with the "Basic" package then your monthly cost will fluctuate between $2.75 and $3.95 depending on the length of your commitment. This comes out to between $33 and $47 per year.
Domain: Because you are using Bluehost as your hosting provider the domain cost will be ZILCH for the first year. The free domain only applies to new accounts so if you have previously used Bluehost then the price will be $11.99 yearly. This is also the price that new account members will have to pay after their first year.
Domain Privacy: All new domains must be registers under an individual or company. If you wish to keep your contact information private, then it's a good idea to pay $.99 per month to make it happen.
SSL: Put simply, SSL keeps your WordPress blog safe. It's a must if you plan on processing payments on it. Pricing fluctuates greatly from $49 to $100+ yearly, but it's another free perk that you can enjoy with your new Bluehost account.
What does it all mean?
You can start a blog for under $50 a year regardless of which plan you choose.
Not bad to enter a world with limitless potential.
When you are ready to create your new WordPress blog, follow the steps below to buy hosting for your blog.
Go to Bluehost and click the "Get Started" button.
Choose a package (I recommend the basic package).
Enter the domain name you chose earlier, or skip for now.
Fill in your personal and payment information.
Next, enter your password and don't forget it as you'll need it to access your account.
If you have any problems, please send me an email at mcairo@bloggingpals.com. I Will do my best to help solve your problems and put you in contact with my Bluehost representative if needed.
Ok, so now you are ready for the last step in creating your new blog which is to install WordPress on Bluehost.
#3. Install WordPress on Bluehost
Okay, so this is probably the step that most of you are afraid of and the one you are most looking for if you're wanting to start a new WordPress blog on Bluehost.
However, Bluehost makes it very easy to install WordPress.
They have automated the process and it's free to all account members.
After creating your password on step 2. Bluehost will automatically guide you through the steps required to start your new blog.
Below are the steps:
Pick a theme. Your theme is basically what your blog is going to look like so choose something simple that's easy to navigate.
Click "Start Building."
Pick the type of blog you're creating (business or personal).
You can skip these steps if you are familiar with WordPress themes and have one picked out already.
YAY! You are now the proud owner of a new WordPress blog.
This is where the journey begins. Now you can play around with the blog's design and start creating content for it.
Once again, if you sign up with Bluehost and have any problems getting your blog up and running, feel free to contact me at mcairo@bloggingpals.com.
Below are some tips for navigating the WordPress dashboard:
To write a new blog post click on "Posts" on the left-hand side.
Add images to your post by clicking on "Add Media" on the posts page.
To add plugins that enhance the functionality of your blog, click on "Plugins" on the left-hand side.
Go to "Appearance," if you want to modify your header, footer, or sidebar.
Go to "Pages" and "Add New" to create new pages such as about, contact, privacy, ect.
Click here for a more comprehensive guide on how to create and monetize a WordPress blog on Bluehost. This is an almost 10k word guide that walks you step-by-step on how to create a blog, generate content, promote it, and monetize it.
Here are some blogging-related posts you should read after you learn how to start a WordPress blog:
Are you a blogger? if not (yet), what's your biggest hurdle? I'd love to hear it. I would also love to hear from bloggers on what you like and dislike about it! Hope you enjoyed my tutorial on how to start a new WordPress blog on Bluehost.
FAQ's on how to start a WordPress blog using Bluehost:
Is Bluehost good for blogging?
Yes, Bluehost is great for blogging. Bluehost is a web hosting company where you can park your blog so that other people can access it. Without a hosting company, your blog cannot be seen by others.
Is WordPress Free with Bluehost?
Yes, WordPress is free with Bluehost. They also make it very easy for you to install, update, and maintain your blog through their dashboard.
Do you need Bluehost and WordPress?
Only if you want to open up a WordPress blog. However, if your blog is not using the WordPress platform you can still use Bluehost. There are also other web hosts that you can choose aside from Bluehost. In other words... NO, you don't need both, but it is recommended.
How do I start a WordPress blog on Bluehost?
You must open up a new account with Bluehost. Once you have that, you can start a WordPress blog. For directions, please read the article above.
How do beginner blogs make money?
Beginner blogs make money in many ways, but the most popular ways include; placing ads through the blog, selling products and services, or through affiliate marketing.